At Kinetic, we know plasma cutting systems. In fact, we've spent decades perfecting a line of machines that help fabricators cut, drill, mill and create perfect parts for just about any application.
One of the things that sets Kinetic apart is our commitment to efficiency. Our machines are faster, more accurate and designed for maximum productivity. This means they help you cut more parts in less time, saving money and increasing profitability along the way.
A new addition to our line of plasma cutting machines has helped us take efficiency and productivity to a whole new level. With our automated part unloading system, Kinetic machines now come equipped to quickly and safely unload parts even as the machine keeps cutting.
Read on for three important ways this new automated part unloading system can help your business maximize productivity when cutting parts!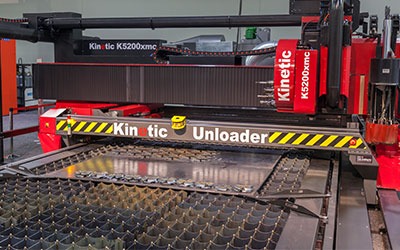 Smart Sorting
One of the advantages of our part unloading system is that it is "smart." If you have multiple parts nested in a single sheet, our automated unloader can select individual parts from the nest and then sort them onto multiple pallets based on a variety of criteria. For example, it can stack all matching part numbers on a pallet, or it can sort finished parts by PO number. This means machine operators will spend less time organizing parts and more time cutting – saving you time and money in the process.
Large & Heavy Parts
Our automated part unloading system can handle even large, heavy and unwieldy parts. With current models able to span parts as large as 60", and weighing up to 1,000lbs., our machines can make quick work of parts cut from even thick, heavy steel. Instead of relying on machine operators, clumsy hoists and slow forklifts, our automated system quickly unloads, sorts and stacks parts. This reduces the risk of operator injury from transporting heavy parts, and helps maximize cutting time.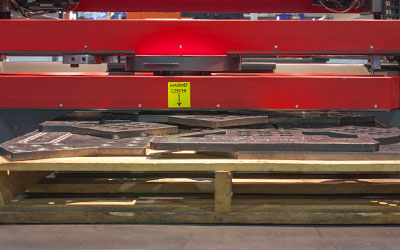 24/7/365 Cutting
One of the features that makes our part unloading system unique is that it can travel under the cutting gantry. This allows operators to work both ends of the table simultaneously. Remove parts and reload one end of the table while the machine cuts parts at the other end. And when cutting is complete, the part unloader and cutting gantry switch ends without stopping in order to continue working. This means your machine can cut, drill and mill parts, without stopping, day in and day out, minimizing machine downtime and maximizing cutting time for your business.
Ready to Learn More?
Interested in learning more about how Kinetic plasma cutting systems can help your business maximize productivity with automated part unloading and sorting?
Contact us today to ask questions about your specific application, and we'll be happy to tell you all about how Kinetic machines, and our automated part unloading system, can benefit your business. We look forward to hearing from you!