We're thrilled to be attending FABTECH 2023 in Chicago! The annual gathering of the fabrication and metalworking industry is once again taking place in September, so if you haven't made plans yet to attend, now's the time!
We'll be in attendance with our K5200xmc combination machine with automated part unloading on display, as well as a team of plate processing experts who can answer all of your questions. Read on for a few details, and be sure to contact us today to set up a time to meet at the show!
What?
FABTECH 2023
Where?
McCormick Place
Chicago, IL
Booth #A3985
K5200xmc with Automated Part Unloading
The K5200xmc plasma cutting system that will be up and running for you to see at FABTECH is a productivity-enhancing workhorse favored by job shops and OEMs alike. Thanks to integrated cutting, milling, drilling, marking, and our automated part removal system, it can help fabricators dramatically reduce the time it takes to make parts. Its integrated, automated, robotic unloader removes finished parts from the machine and sorts them by part number while the system continues cutting. Stop by the booth and see it in action at this year's FABTECH expo!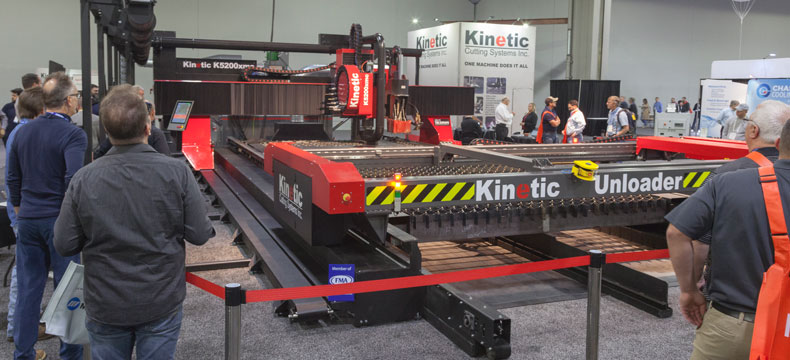 At Kinetic, our heavy-duty combination plasma cutting, oxy-fuel cutting, drilling and milling machines will give your business a competitive edge. With multiple functions in a single machine, they eliminate the need for complex fixtures, multiple setups, or moving work pieces from station to station – thereby maximizing productivity and profitability for your business.
Interested in Meeting at the Show?
Contact us today to let us know you'll be there and schedule a time to meet. We look forward to seeing you in Chicago and discussing how Kinetic machines can help make your business stronger.