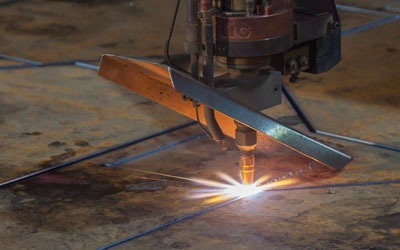 If you've been considering getting a plasma and oxy and fuel cutting machine in-house to expand your capabilities, you may be wondering what features and characteristics matter most.
Not all equipment delivers the same level of performance, so it's important to do your homework before making a purchase.
What Should You Look for in a Plasma And Oxy Fuel Cutting Machine?
Below is a list of a few of the characteristics that make Kinetic machines a top choice for both small job shops and major OEMs.
Accuracy – Our plasma and oxy fuel cutting machines deliver exceptional precision and quality. Their accuracy is unmatched in the market.
Multiple processes in one machine – With the ability do cutting, milling, drilling, and other operations on one machine, Kinetic machines eliminate the time and labor to move parts to and from multiple machines.
Best-in-class velocity – Our machines are not only accurate and multi-capable, but they are also fast. You get high-precision and fast cutting speed—without sacrificing either.
A design that minimizes downtime – Our machines have modular table slats that can be replaced easily. They also feature automatic cleaning and chip recycling, which helps ensure their maintenance is on target. Also, we ship replacement parts quickly. It all boils down to greater uptime and maximum productivity for your business.
Superior support – In addition to remote monitoring and troubleshooting, we stand by our machines and are available 24/7 to answer your questions and troubleshoot if needed.
How Does All Of This Make A Difference?
Our customers have reported reducing the time it takes to make a part by over 95% when making the switch to Kinetic machines.  And with productivity comes profitability, so if you're ready to give your bottom line a boost, contact us today. We would love to learn more about your needs and explore how a Kinetic plasma and oxy fuel cutting machine can transform your business.