The more efficiently you can move materials through manufacturing processes, the more parts you can produce in an hour, day, week, year, and so on. Making more in less time means a better bottom line, so it makes sense to look for viable ways to streamline production while maintaining best-in-class quality.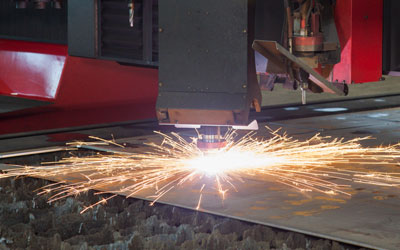 At Kinetic, we've designed our combination plasma cutting, milling and drilling systems to allow manufacturers to run their operations smoothly and efficiently day in and day out. Read on to learn more about how our machines give small job shops and major OEMs alike a profitability boost!
What Makes Kinetic Combination Plasma Cutting Machines Profitability Boosters?
Our machines complete multiple processes on a single piece of equipment, including plasma and oxy cutting, bevel cutting, drilling, milling, tapping, marking and more. This presents several distinct advantages.
They reduce setup time because there's no need to move parts from one machine to the next.
They speed production by eliminating the need to program additional machines for downstream processes.
They dramatically reduce the time to produce parts because they incorporate a variety of processes into a single setup.
They reduce manual labor—setup is required on just one machine, they feature automatic cleaning and coolant recycling, and they offer automated part unloading.
They minimize downtime, thanks to their heavy-duty design, modular table slats that are easy to replace, and quick-ship replacement parts.
Our plasma cutting systems get all aspects of the job done quickly and with exceptional accuracy. You can rest assured that the increased efficiency you get with our machines will come with uncompromising quality, too.
Gain the Kinetic Advantage
When you choose Kinetic, you get not only the best machines technology has to offer, but also a customer support team behind you that's vested in your success. Contact us today about how our plasma cutting systems can move your business forward! We look forward to answering all of your questions and helping you gain the Kinetic advantage.