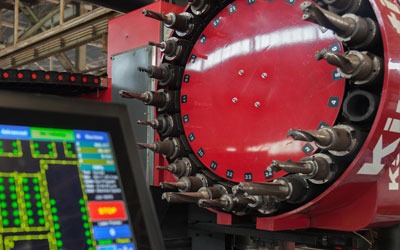 Efficiency and quality mean everything in manufacturing. So why settle for equipment that won't give you the best of both? At Kinetic, we don't want you to have to compromise. That's why we've pulled out all the stops in designing our combination plasma cutting, milling and drilling machines.
Our best-in-class plasma cutting machines combine innovative machine design with multiple processes in a single step to reduce costs and help manufacturers get ahead. Read on to learn how.
How Do Kinetic Plate Processing Machines Decrease Production Costs?
Eliminate the time and labor needed to move cut parts to other machines for milling, drilling, marking, etching, or other downstream processes
Eliminate the time and labor needed to do setups and build fixtures on multiple machines to complete your run of parts
Reduce the time and labor needed to clean and service machines, thanks to our automatic chip and dross collection and coolant recycling
Reduce downtime from breakages, thanks to heavy-duty construction that is meant for three-shifts-a-day cutting
Extend the life of tooling as a result of through-spindle coolant, and smart tooling monitoring that will alert the operator when it is time to replace tooling
Speed up production with our automated part unloading system, which will stack finished parts by work order number or part number on multiple pallets
Speed up production with best-in-class plasma cutting speed
And more, contact us today to discuss your situation and hear how Kinetic machines can help in your unique manufacturing environment
All of our combination plasma cutting, milling, and drilling machines run on proprietary software that we developed to help maximize production and profitability. We provide detailed tutorial videos and online resources that answer questions and provide instruction on using our equipment. We also offer convenient real-time online assistance through which you can invite us onto your screen to help you troubleshoot any issues or questions.
Put Greater Profitability in Motion with Kinetic
Whether you're a small job shop or a massive OEM, we're here to help you maximize output and lower costs. Contact us today to discuss how our combination plate processing machines can boost your profitability on every job.  We look forward to hearing from you!