You have much to think about when choosing a plasma cutting system for your shop. Does the machine have features that will give you the capabilities and versatility you need? Does the machine have built-in automation to save time and boost efficiency? Does the machine perform additional processes like milling, drilling and tapping? Does the manufacturer offer exceptional customer service and support? These are just a few of the questions you must ask yourself when comparing plasma cutting systems.
Fortunately, Kinetic has thought about everything you need—and more—to run a productive and profitable business. As you explore the makes and models of plasma and oxy fuel cutting equipment, consider what Kinetic brings to the table.
Five Advantages of Kinetic Combination Plasma Cutting Machines
1. They're Easy to Program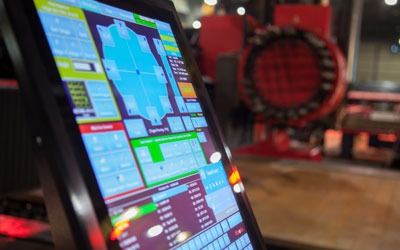 We've designed our machines from the ground up to make sophisticated technology easy to use and fast to run. Thanks to our own proprietary PrimecutNE nesting software, your techs can set up and monitor jobs quickly and easily. Plus, our intuitive user interface via a 19" LCD touchscreen provides convenience and control.
With PrimecutNE, you can:
Create quotes and jobs
Nest parts onto plates
Auto nesting for best utilization
Reconfigure the cutting schedule
Reconcile plate inventory
And more!
2. They're Fast
Why settle for a machine that slows down your shop and impedes output? Everything about Kinetic plasma cutting systems are designed to help you process plate faster. We build our machines from the ground up to save you time and improve productivity.
From a traverse speed of 1,000″ per minute and automated tooling changes in under three seconds to a self-cleaning table and closed chip extraction system to other efficiency innovations, you get fast, accurate cutting while spending less time on setup and clean-up. Plus with milling, drilling and more in the same step, you'll fly through projects that include multiple processes.
3. They Do More Than Just Cutting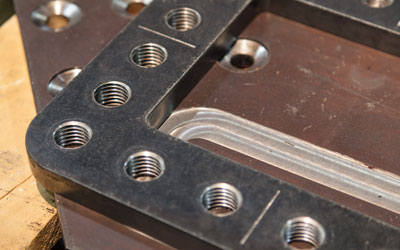 As mentioned earlier, our combination plasma cutting machines perform multiple functions simultaneously, saving you valuable time on every job. When projects call for not only cutting but also milling, drilling, chamfering, counterboring, part marking, or other processes, a Kinetic machine can do it all in one step. There's no need to expend time and labor to move heavy plate through secondary processes. Perfect finished parts are ready to come right off the machine—even when they need complex drilling, milling, tapping, or other work. With all processes completed by the same machine all at once, you'll reduce production time and increase safety.
4. They're Automated
When your operators can rely on a machine to do more on its own, it frees up their time to be productive elsewhere. It also eliminates physical labor which means you'll do more work with a smaller team, plus it helps reduce workforce accidents and injuries.
Kinetic plasma cutting systems have many automated features, including automated part unloading. Our machines will unload finished parts and even organize them onto pallets based on part number or work order number. They can also cut parts at one end of the table while unloading finished parts at the other end. Once you experience the convenience, efficiency, and ability to truly run a 24/7/365 operation, you'll wonder how you ever managed without automated part unloading!
5. They're Designed With Productivity In Mind
What more can we say? Kinetic machines help you do more work, faster, and more accurately, thanks to:
State-of-the-art software
Best-in-class speed and accuracy
Multi-process versatility
Time-saving automation
Plasma, oxy fuel, pipe cutting all in one machine
Plasma and oxy fuel bevelling
Quick ship replacement parts
High-performance downdraft table with chip recycling
Through spindle coolant for longer tooling life
Coolant recycling
Quick change tooling
Multi-torch cutting
And so much more!
Contact one of our expert technicians to learn more about our machines, ask specific questions, and discuss your needs today. We are standing by to help your business determine which plasma cutting system will work best for your unique application.