You'll find multiple brands and models of combination plasma cutting, milling and drilling systems out there. But how can you know which will give you the best in performance and precision? At Kinetic, we take the guesswork out of choosing the right plate processing equipment. With best-in-class engineering and features created to maximize productivity, Kinetic plasma cutting systems are made for busy shops that want to keep up with demand and ensure the utmost quality.
Four Features To Look For In A CNC Plasma Cutting System
We've designed our machines with advanced features and functionality to give plate processors unprecedented production speed and superior results. Read on to learn about four key features that you should look for if you're considering investing in a combination plasma cutting, milling and drilling system for your shop.
1. Engineered For Dependability
Dependability and durability are the difference between meeting your production goals and sitting dead in the water. With Kinetic, you can trust that your machine will be built to last. With heavy-duty build quality, a one-piece welded gantry, full protection for all lines and drives, and other smart design features, our machines are made for 24/7/365 operation in the toughest production environments. In addition, with easy-to-replace modular component parts, and a full inventory of quick-ship parts only a day away, we'll help keep your plasma cutting system up and running so that your shop can keep running at maximum capacity day in and day out.
2. Bevel Cutting Flexibility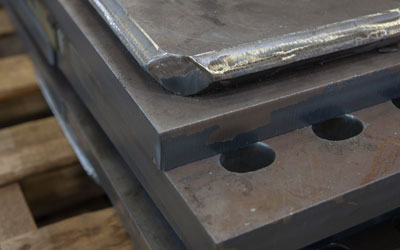 The flexibility to perform an infinite array of bevel styles means that you can cut parts for just about any application, so look for a machine that can handle a multitude of shapes and styles. You'll find that Kinetic plasma cutting systems offer highly versatile bevel cutting capabilities. Our patent-protected technology allows you to do a wide range of contour bevel cutting – from V to A to Y to K – as well as a variety of weld profiles. And, you can switch from plasma beveling to oxy fuel beveling in just minutes. With our machines, you get full height control while cutting, and our pneumatic breakaway feature protects your torch from damage. All of this cutting flexibility means your machine will be able to handle just about any bevel or cutting situation you can throw at it.
3. Part Marking Productivity
Smart fabricators and OEM's know that marking parts can save valuable time during fit-up, welding and assembly, so be sure to consider a machine that offers integrated part marking capabilities. With our machines' part marking features, you can etch and engrave serial numbers, barcodes, batch IDs, graphics, logos, and more. Our combination cutting and drilling machines' design makes it simple and efficient to mark parts as you cut them thanks to options for integrated percussion marking, daisy wheel stamping and ink jetting. Many smart fabricators mark weld tabs, fitment locations, and other instructions right on their parts as they're being cut. This saves time and helps take the guesswork out of downstream processes such as final fit-up and assembly – saving time and boosting your bottom line.
4. Automation Efficiency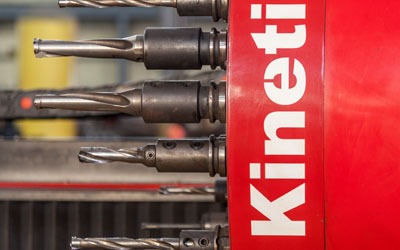 It's all about automation in today's fast-paced production environment, and the right automated features will help your shop work faster and smarter. In addition to best-in-class cutting speed, Kinetic machines help you save precious time thanks to innovative, integrated, automation. A few of these time-saving, automated features include:
Automated part removal robot
Automated tool changes
Automated tooling alerts to prevent breakdowns
Automated tool height measurement
Self-cleaning table
Automated chip collection
We believe that automation helps fabricators and OEM's work better, so we've designed our machines to include innovative automated features that will help you maximize productivity from initial machine setup, to production, to unloading and sorting parts. This will help you work faster, do more with less manpower, and ultimately maximize profitability.
Boost Your Shop's Productivity by Putting Kinetic on the Job
If the plasma cutting system you're considering doesn't offer these four must-have features, it's time to learn more about Kinetic. Contact us today to find out more about how our plasma cutting systems will revolutionize your business's productivity and profitability. We look forward to helping your business gain the Kinetic advantage!