These days, every business is looking to be more efficient, maximize productivity and boost their bottom line. From small job shops to international OEMs and everyone in between, having the right machines at the ready can transform your operation for the better.
So if you're thinking about investing in plate processing machinery for your facility, think about how the right machines can help your business get ahead. At Kinetic, our plasma cutting machines with integrated cutting, milling and drilling, are designed from the ground up to deliver maximum productivity. And thanks to fast cutting speeds, best-in-class accuracy and easy serviceability, they help businesses increase output and maximize production.
Read on to learn about similar productivity-boosting features to look for in a CNC plasma cutting system for your business.
5 Productivity-Enhancing Features to Look for in a CNC Plasma Cutting System 
Multiple Cutting Options in a Single Machine
Multiple cutting options in a single machine will help maximize your shop's productivity and efficiency. From plasma and oxy fuel cutting, to bevelling, triple-oxy bevelling and more, look for a machine that's multi-functional and easy to use. Even better, with a machine capable of fast changeover from one type of cutting to the next, you won't have to shut down production for lengthy refits and you won't have to move production from machine to machine based on the type of cutting or bevelling you need on any given part.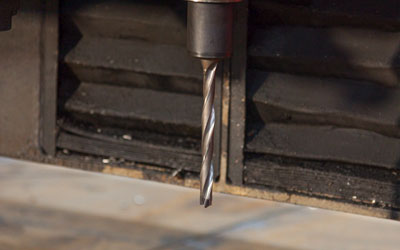 Integrated Milling, Drilling & Tapping
If your plasma cutting system can cut, mill, drill and tap simultaneously, you'll eliminate the need to manually move WIP from one machine to another to complete additional processes. So it pays to look for a CNC plasma cutting system where there's no need to move pieces through various stations to complete additional fabrication processes. This feature alone can save your team a great deal of time on the production line, and time is money when it comes to running a successful shop.
Integrated Part Marking
If you find your team marking weld tabs, alignment marks, part numbers and other indicators after cutting is complete, choose a machine that can do automated part marking during the cutting process. With the ability to cut and mark parts in a single setup, you will save time and reduce material handling costs. Integrated part marking capabilities also make it faster and more accurate to perform downstream processes, fit up and final assembly.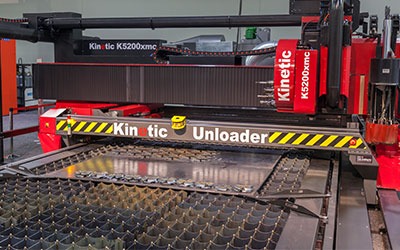 Smart Automation
Automation can take your cutting and fabrication line to the next level. So look for smart automation that will help you reduce manpower and speed up production. From loading the machine, to the way the machine manages chips and waste, to unloading finished parts, some plasma cutting systems offer various automated system to speed up production, maintenance and cleaning. If speed and productivity are what you're after, automation can help you get there.
Fast Service
Your shop is only productive if your machines are working properly. So look for a machine manufacturer that provides 24/7/365 tech support and quick ship replacement parts to ensure speedy service. That, plus a USA-based support team and supply chain will help you get your machine serviced faster while keeping downtime to a minimum.
Ready for a Machine with These 5 Features, and More?
If you're looking for a machine with these five features, you're in luck! Kinetic machines deliver.
With multiple cutting options in a single machine, including plasma, oxy and a variety of bevel options, you'll be able to change cutting methods with minimal downtime. With integrated milling, drilling, tapping and more, you'll reduce the need to move work from station to station and save time. Thanks to integrated part marking, you'll save time on downstream processes like fit up and assembly. With smart automation, you'll reduce manpower and maximize output. And with quick-ship replacement parts and 24/7/365 tech support you'll minimize downtime and keep your facility running smoothly.
Our team is standing by to answer your questions, discuss your needs, and give you the guidance and insight you need to get the most from your plasma cutting system. So if you're looking for a smart plasma cutting system that will help your business maximize productivity, contact us today. We're ready to answer your questions and help you choose the right machine for your unique application.