Many manufacturers and fabricators have unique needs that single-function plasma machines just can't meet. That's because single-purpose machines can limit production speed, force operations to develop time-consuming and costly work-arounds, or cause shops to invest in additional costly equipment to perform necessary downstream processes.
At Kinetic, our innovative machines do so much more than cut plate – and that helps OEMs and fabricators alike work faster, reduce manpower, and boost their bottom lines. Our plasma cutting machines with integrated cutting, milling and drilling, deliver maximum productivity by performing a variety of functions in a single machine. And that not only boosts output but also maximizes profitability. Read on to learn more about the benefits of choosing an all-in-one CNC plasma cutting, milling and drilling machine for your shop!
3 Benefits of an All-In-One Plasma Cutting, Milling & Drilling Machine 
Save Time
Many shops find that shifting manpower from task to task and moving workpieces from station to station negatively impacts their efficiency. That's because no matter what you're creating, fitting up metal parts and moving them through subsequent processes takes time. Kinetic machines eliminate this wasted time and effort by allowing you to perform a variety of fabrication processes in a single setup. From cutting to milling, drilling, tapping, part marking and more, you can produce complex parts in a single step. In addition, our machines have been proven to deliver best-in-class accuracy, and that means less rework after the job is complete, saving time and reducing the cost of turning heavy plate into the parts you need.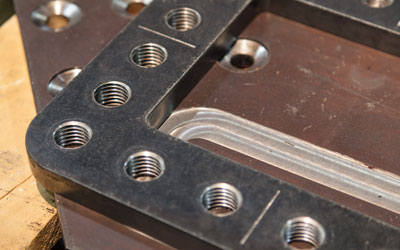 Maximize Accuracy
When you're cutting hundreds or thousands of critical parts, tolerances matter. And if parts don't meet your exact specifications, reproducing them can be costly. With Kinetic machines, best-in-class accuracy means less rework, increased production capacity and happier end users. Our machines feature best-in-class cutting accuracy, drilling accuracy and repeatability for a reason. Less accurate machines end up wasting time, decreasing efficiency and lowering profitability, so we've made sure to put accuracy first. Thanks to a single-piece welded gantry, linear rails with helical racking, and other innovative features, our machines can be counted on to deliver highly-accurate parts each and every time.
Boost Profitability
Faster production, less manpower and higher accuracy as individual considerations are proven methods to maximize profitability. And when taken together, they can make a dramatic difference. That's why we've designed our plasma cutting systems from the ground up to help busy fabricators do more processes in a single setup, minimize the movement of workpieces from station to station and reduce manpower needs.
We've even designed an automated unloading system to save you time and increase efficiency. This system allows our machines to cut parts on one zone of the cutting table while a robot removes completed parts from a second zone. This allows a single machine to operate almost 24/7/365 for maximum throughput.
This amounts to a huge time reduction and cost savings that can positively impact your business, and that makes the question of productivity the most important consideration when choosing a new machine.
Ready to Transform Your Business?
If you're looking for an all-in-one CNC plasma cutting, milling and drilling system that will help you process parts quickly and precisely, contact us today. Our team is standing by to learn about your needs and recommend the perfect machine for your unique application. We look forward to hearing from you!