OEMs and fabrication shops alike need best-in-class equipment to maximize production output without sacrificing quality results. At Kinetic, we design and build our CNC plasma cutting machines to deliver precision and optimal productivity. Thanks to a variety of models to choose from, and with just about unlimited customization available, we make it easy get the plasma cutting, milling and drilling system you need with features that will satisfy your shop's businesses' unique specifications.
Read on to learn more about just a few of the machine options we have available, and contact us today to discuss your needs!
1. Combination Plasma Cutting, Milling & Drilling Machines
Our K3000xmc, K4000xmc, and K5000xmc machines provide plasma and oxy fuel cutting with enhanced beveling capabilities plus advanced drilling milling, tapping, and more. When plasma cutting, they can slice through metal up to 3 inches thick. When oxy fuel cutting, they can cut through 8-inch thick metal. All have heavy-duty construction with multiple functions in a single machine. Other time-saving features include a self-cleaning table, modular table slats, and a closed chip extraction system that automates chip collection.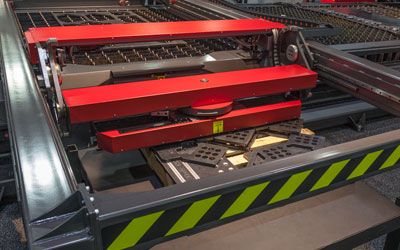 2. CNC Plasma Cutting Machines with Automated Material Handling
Kinetic's K5200xmc further expands your productivity potential with an automated part removal system. It features a low-profile, automated robotic unloader that picks up, places and palletizes parts, sorting them by part number, work order or batch number. The unloader travels under the cutting gantry, removing finished parts from the machine while the system continues cutting parts. It keeps your operation going nonstop and saves your techs from the manual task of unloading parts.
3. Plate Dragga Plasma Cutting System
For off-the-charts efficiency, our K5600xmc plasma cutting systems has our Plate Dragga pass-through table technology. It features a stationary gantry that pulls material through it to efficiently cut, drill, mark, and more with unprecedented accuracy and speed.
Other Features That Save Time and Put Productivity on the Fast Track
With Kinetic, you get many other time-saving features that allow for optimal uptime in your shop:
Best in class speed and accuracy
Automated tool changes in under three seconds
Self-cleaning table
Closed chip extraction system
Coolant recycling system
And more
Put Superior Productivity in Motion with Kinetic
Get in touch with us today to discuss your shop's challenges and goals. Our knowledgeable team is here to assess your situation and estimate how much more productive you can be with the right Kinetic plasma cutting system at your business. Contact us today. We look forward to hearing from you!