If one of your business goals this year is to increase your shop's productivity, it pays to consider how adding a new CNC plasma cutting machine just might take your business to the next level. However, maximizing efficiency and realizing a boost to your bottom line takes more than just buying a new cutting machine. Choosing the right cutting machine, one that includes smart features that enhance speed and productivity, is the best way to maximize profitability for your business.
Read on to find out ways the right CNC plasma cutting system can improve your team's workflow and streamline your shop's productivity.
3 Plasma Cutting System Considerations To Boost Your Shop's Productivity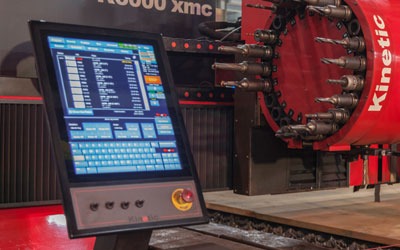 State-of-the-Art Software
Any cutting machine is only as good as the software that runs it. From initial program setup, to nesting, inventory management and other features, the right software can exponentially increase your shop's efficiency. Our proprietary software, PrimecutNe, for example, supports more than just cutting. With best-in-class support for advanced processing, Primecut has been designed to natively handle beveling, drilling, tapping, machining and marking. DSTV files can be imported and automatically processed, including compound bevels, counterboring and tapping of holes, and marking of fold lines.
It also allows you to do quoting, nesting, plate stock management, scheduling and advanced processing all from a single platform. Primecut is a powerful tool that allows your users to quickly create quotes and jobs, nest parts onto plates, modify the cutting schedule, reconcile inventory of plates and manage your plate stock library. It will truly help your shop get more plate cutting jobs done faster.
Automation Technology
When it comes to the latest technology, automation is at the top of the list. So if you're looking to boost output, reduce manpower and maximize your bottom line, look for a plasma cutting system with time-saving automation built-in. At Kinetic, our automated unloading system allows our machines to cut parts at the same time that a robot removes completed parts from the other end of the machine. This allows a single machine to operate almost 24/7/365. Simply load or unload one end of the table, while the machine processes parts at the other end. Our innovative part unloading robot can even sort parts and place them on pallets, according to the part number, batch number or other criteria. This streamlined process reduces manpower and dramatically speeds up production, allowing a single machine operator to do the work of multiple people.
Better Workflows
Many shops find that shifting manpower from task to task and moving workpieces from station to station can eat into their efficiency. That's because no matter what you're creating, fitting up metal parts and moving them through subsequent processes takes time. Kinetic machines eliminate this wasted time and effort by allowing you to perform a variety of fabrication processes, from cutting to milling to part marking, in a single setup. In addition, our machines have been proven to deliver best-in-class accuracy, and that means less rework after the fact which saves time and reduces cost after processing is complete.
Ready to Increase Your Shop's Productivity?
As you can see, choosing a machine that will boost your business is about so much more than just cutting! So if you're looking for a smart plasma cutting system that will help your business maximize productivity, contact us today. We're standing by to answer your questions and help you choose the right machine for your unique application.