Time. It's not a renewable resource, and if wasted, it can mean diminished productivity and profitability. No business – small fabricating shops and OEMs included – can afford to waste time. That's why we have designed our CNC plasma cutting machines to include innovative features that optimize performance and efficiency.
7 Ways Kinetic Plasma Cutting Machines Save Time and Boost Productivity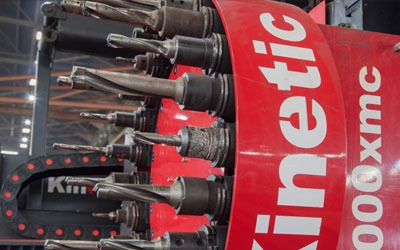 Multiple Processes In One Step
Kinetic combination plasma cutting systems can cut, mill, drill, and more simultaneously to eliminate the need to manually move WIP from one machine to another to complete additional processes.
Game-Changing Automation
From their self-cleaning table to chip extraction system to automated tool changes and tooling alerts, and more, Kinetic machines do more on their own. They save your team valuable time and effort.
State-of-the-Art Programming Software
Our proprietary PrimecutNE nesting software allows your operators to set up jobs quickly. An intuitive user interface and 19″ LCD touchscreen deliver superior ease of use when monitoring projects.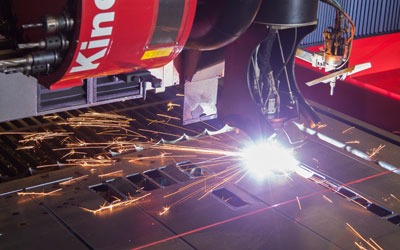 Exceptional Speed and Accuracy
Kinetic machines move projects along quickly without compromising precision. Combined with best-in-class accuracy, this means you'll get more work done faster and it will be more accurate – saving time on downstream processes, fit-up and assembly.
Web App for Optimal Insight and Control
With the Touchcut Web App, you and other members of your team can see what's happening with your machine from any internet-connected device. Is your machine running or idle? What parts are on a pallet? Which pallets are stacked and ready to be taken away? In what stage of the process are your parts? You can get answers to all of these questions and control various functions of your machine through the app.
Parts Ready to Ship
We have our machines' standardized components available to be shipped worldwide within a day. That fast turnaround ensures you can have your machine serviced faster and keep downtime minimal.
Expert Support
Our team is standing by to answer your questions, troubleshoot, and give you the guidance and insight you need to get the most from your plasma cutting system. No matter the day of the week or hour of the day, we're here to assist you!
There's No Time Like the Present to Find Out How Much Time You Can Save With a Kinetic Plasma Cutting System
Contact us today to learn more about the many time-saving, productivity-boosting features that make Kinetic CNC plasma cutting machines a cut above others. Request a time study today to find out just how much time you can save when creating parts with a Kinetic machine.