Plasma cutting systems aren't "one size fits all." Whether your shop requires a cutting machine with basic functions or advanced features, Kinetic has a CNC plasma cutting system to satisfy your plate processing needs.
We design and build all of our machines with the same level of attention to superior performance. Still, there are key differences to note between the two categories of plasma cutting machines that we manufacture. Depending on your shop's current and future needs, a production plasma cutting machine or a combination plasma cutting machine may be the better fit for your objectives.
The Difference Between Kinetic Production Plasma Cutting Machines and Combination Plasma Cutting Machines
Production Plasma Cutting Machines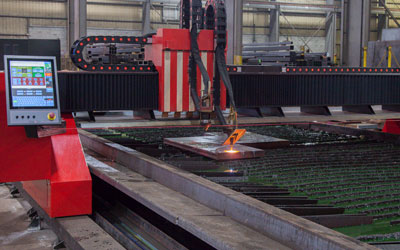 Our K1200 and K2500 production cutting machines put productivity on the fast track. They give you the following capabilities:
Quick and accurate plate cutting – plasma and oxy fuel
Basic drilling – with a simple drilling/tapping turret
Part marking with plasma etching
These machines are ideal for steel service centers or businesses that cut lots of plate but don't have a need for more sophisticated built-in processes.
Combination Cutting, Milling, and Drilling Machines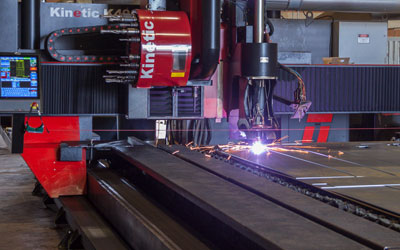 Kinetic's K3000XMC, K4000XMC, K5000XMC, K5200XMC, and K5600XMC machines offer speed, precision, and multiple processes in a single piece of equipment.
Quick and accurate plate cutting – plasma and oxy fuel
Bevel cutting
Pipe cutting
Advanced drilling processes – Milling, drilling, tapping, boring, chamfering, hole interpolation
Part marking
Automated tool changes
Automated part unloading and sorting
Automated material handling
Kinetic combination cutting machines have exceptionally robust construction and are made for intensive jobs that involve cutting thick materials and making complex parts. They're ideal for OEMs, fabricators, and job shops that take on demanding projects.
Need Help Deciding?
We're here to answer your questions and make an informed decision about whether a production cutting machine or a combination cutting machine will help you achieve your goals. Capabilities, budget, and other factors all play roles in making the right choice. Contact us today to discuss your business's needs!