PRIMECUTNE VERSION 4.5.365 RELEASE NOTES
KERF AWARENESS
PrimecutNE is now more kerf aware, allowing visualization of the cut width, better leadin placement, kerf-offset prepiercing, and kerf-offset pierce allowance. A utility has been added to allow updating of kerf data in our SmartHPR costings automatically from Hypertherm provided kerf data. Please contact Kinetic support to obtain the kerf import data.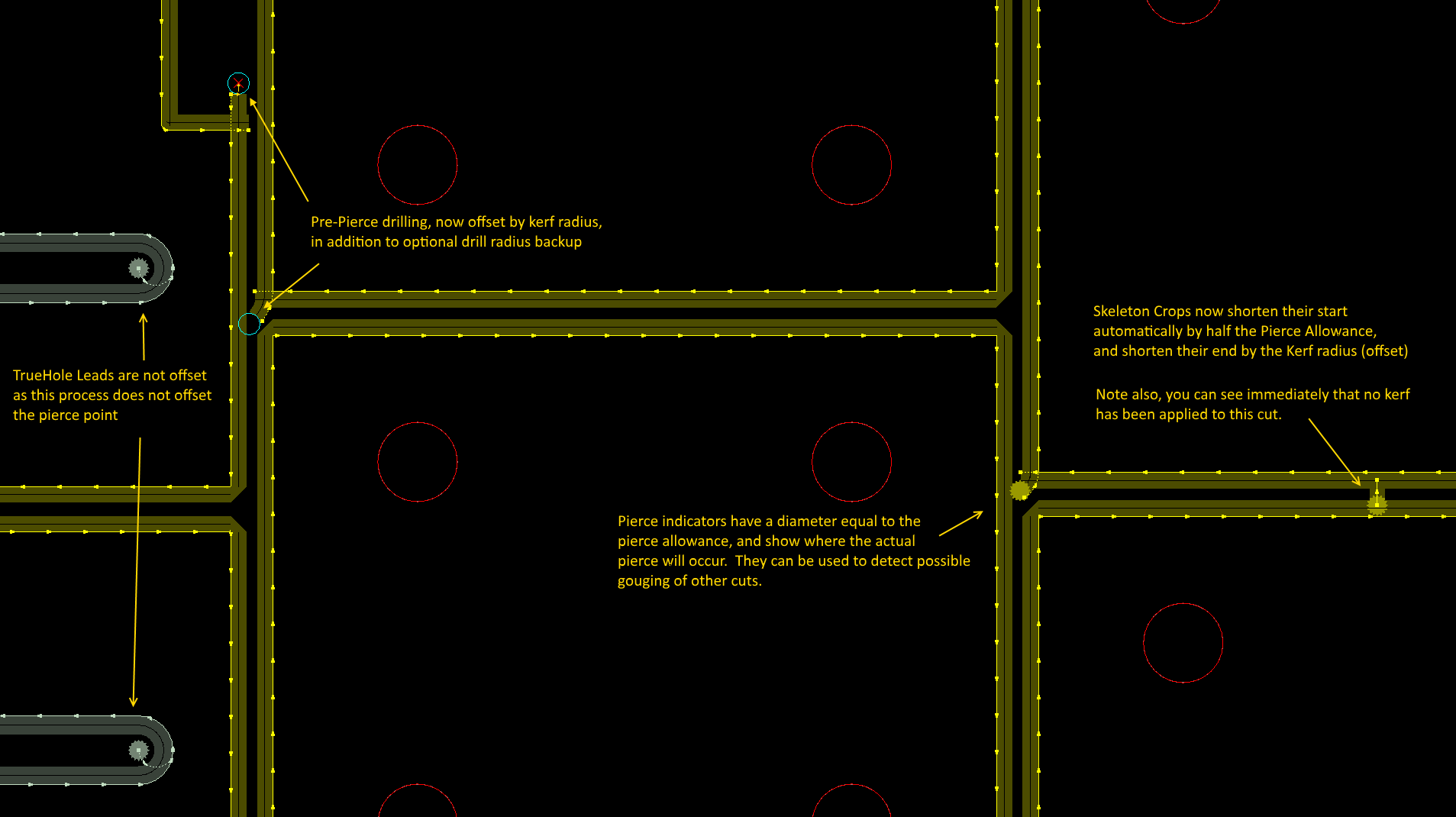 IMPROVED LEADIN PLACEMENT ON INTERNAL CUTS
Internal leads used to prefer corners to attach to. This default has now been changed to prefer flats (to avoid burnout in corners), and a setting has been added to cutting tools Lead Placement, Leadin at Internal Corners to revert to the old behaviour if required.
When leads are placed at internal corners (whether manually or by activating the setting above and having the lead placer place them there), we now shorten the cut path slightly using the now available kerf data to reduce or eliminate the corner overburn.
PLATE ATTACHMENTS
Attachments may now be stored with plates in the database. A common use for this might be attaching test certificates to plates. See File Attachments . This functionality will soon be extended to other object types within the PrimecutNE database (in particular parts, workorders and quotes).
MODERN UI ENHANCEMENTS: DPI AWARENESS
PrimecutNE now properly supports font-scaling, and as a result will run at high resolutions on 4k and 5k monitors.
Known issues:
At this time we have not yet scaled all the button icons, so on a high DPI monitor these may look small but should still be readable.
Users with multiple monitors with different DPI scaling may experience some display inconsistencies. In particular, primecut uses the DPI of Window's "primary monitor' for rendering its title bars and some system dialogs, thus these may appear larger or smaller than expected on a secondary monitor.
Dragging windows between monitors having different DPIs may lead to scaling issues with rendering of lists; we are awaiting an update form a component supplier to resolve this.
MODERN UI ENHANCEMENTS: THEMING
PrimecutNE now better supports "themes" allowing its interface to be customized to suit the user, and allowing for a more modern look and feel. The "Windows 10" theme will be the default, you can revert to a native theme to your operating system by choosing plain "Windows" as the theme.
Many of the themes are "dark' (ie light fonts on a dark background) and there may be some cases where the theming is as yet incomplete, resulting in some visual inconsistencies if dark themes are chosen.
Some examples:


64 BIT SUPPORT
We now have a native 64bit version of the client that promises better memory management and in some cases better speed. This is currently in Beta, contact Kinetic's software team if you wish to participate.
SPEED ENHANCEMENTS
Performance has been improved in general through code optimizations